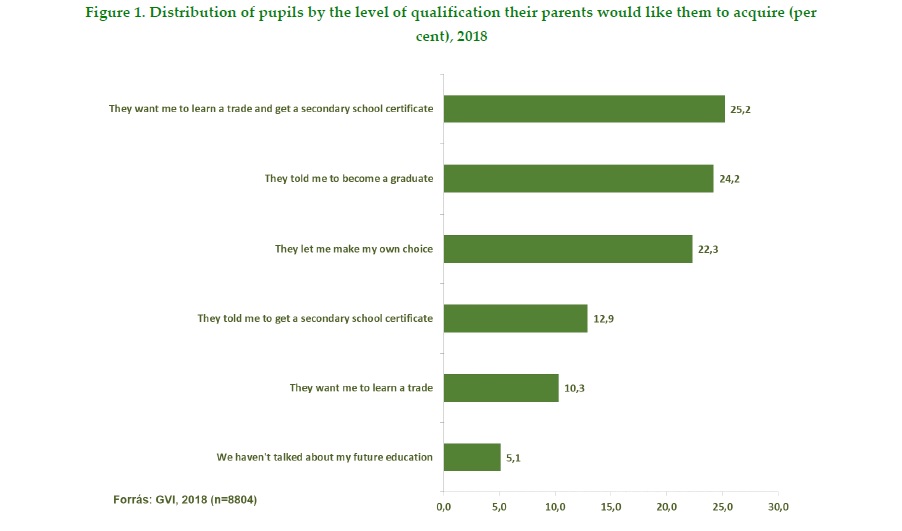 Primary School Children's Further Career Choices 2018 - Summary

This is a brief summary of the most important findings of the career choice survey conducted in 2018 by HCIC IEER. The career choice survey examined the choices and interest of seventh grade primary school pupils with regard to their further education at secondary schools and vocation. The 2018 career choice survey was conducted by the Hungarian Chamber of Industry and Commerce (HCIC). Experts of its territorial chambers surveyed 9228 seventh grade pupils.
Counties were represented proportionally, based on the number of their school-leaving eight graders in 2017. The sample was weighted by the schools' location in greater regions; by the schools' results at the central competency assessment of 2017; and, finally, by the number of their seventh grade pupils. Since the required data for weighting were available for 9071 students, the following findings are based on the answers of these 9071 students.
Results show that almost everyone (92%) has already considered further education possibilities. The majority (85%) talked with their parents about it, 70% discussed it in home room class, 34% went to a school career orientation day, and 24% relied on older friends to gain information.
Pupils' education plans and their parents' advice

Parents most often suggested (in 25% of all cases) that their children should learn a profession and acquire a secondary school certificate. A similar proportion (24%) of parents advised graduation. 22% of pupils were told to be allowed to make their own choice. 13% were advised to get a certificate of secondary education while 10% were advised to obtain a profession, respectively. 5% have not discussed the matter with the parents yet (see figure 1.)...
For the full article and description click the Attachment below: