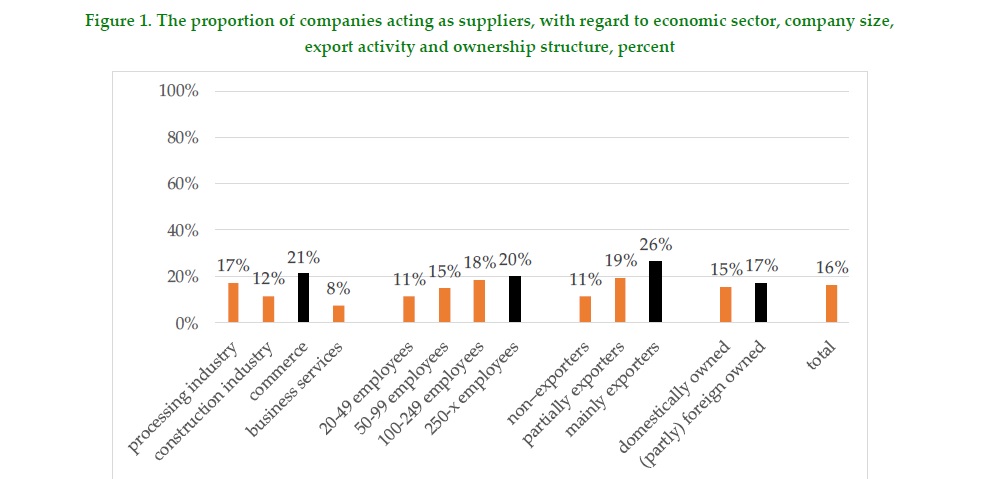 Hungarian companies as suppliers

This analysis is based on the July 2018 wave of IEER's Quarterly Business Climate Survey, in which 400 CEOs were involved. The structure of the sample is the same each quarter: it contains 300 small and medium-sized enterprises (20-249 employees) and 100 large enterprises (250+
employees). Economic output and sectors are both representative. The survey mainly concerns the business situation and short-term business expectations of enterprises. In this wave, the popularity of supplier activity was also surveyed.
Findings on how widespread supplier activity was in Hungary are presented in Figure 1. According to them, 16% of the surveyed 400 companies were involved in supplying to other companies in 2017. Of all the background variables examined, the only one whose correlation to supplying activity had statistically significance was exports. It may be safe to conclude that more export-oriented companies are also more liable to act as suppliers. (Only 11% of non-exporting companies act as suppliers, while mainly exporters that take over 50% of their annual revenues from exports are more than twice as liable, their proportion as suppliers being 26%.)..
To find out more from the full article, click the Attachment below: